Please click on our Events Calendar to see a listing of classes for both children and adults.
Doodle Bug Club (best suited for ages 2-6)
Doodle Bug Club will run for 6 weeks – You can register for one class at a time or register for all 6 sessions for a discounted price.
Classes are from 1:30 – 2:30 p.m. on specific Wednesdays
FALL SCHEDULE:
October 11th – Wooden Scarecrow
October 18th – Pumpkin Painting
November 1st – Turkey Handprint craft
November 15th – Ceramic Ornament Painting, each child will paint 3 ornaments
November 22nd – Snowman Canvas Painting
November 29th – Pottery Painting – Cookies for Santa Plate – SOLD OUT
Cost is $15 per session, or buy class pass that will give you 6 classes for $75
This is fabulous bonding time for your child to spend time with you, or Grandma &/or Grandpa.  Children will get to explore their creativity with color and texture. Parent/caregiver must attend with the child. There is a different project each week.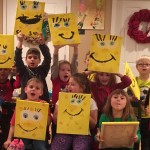 AFTER SCHOOL Art Club (best suited for ages 5-14) 
After School Art Club will run for 6 weeks – You can register for one class at a time or register for all 6 sessions for a discounted price.
Classes are from 4:30 – 5:30 p.m. on specific Wednesdays
FALL SCHEDULE: Upcoming art topics & techniques

October 11th – Wooden Scarecrow
October 18th – Sewing Pumpkins
November 1st – How to Sketch and paint a colorful turkey (Watercolor techniques)
November 15th – Ceramic Ornament Painting, each child will paint 3 ornaments
November 22nd – Canvas Painting – Family Tree Creation
November 29th – Pottery Painting – Cookies for Santa Plate – SOLD OUT

Cost is $15 per session, or buy class pass that will give you 6 classes for $75