C

o

l

o

r

f

u

l

Parties with an Artsy Twist
Want something truly unique for your child's next birthday?  At Artsy Doodle we specialize in colorful parties with an artsy twist.  There is no limit to a child's imagination!
What is included in a birthday party package?
10 party invitations included, $0.55 for each additional invitation
One slice of Pizza Joe's pizza and a bottle of water for each crafter. (You are welcome to bring other snacks or even drinks for the adults that stay for the party.)
A Lead Doodler will be dedicated to your party through the completion of the artsy project
Party Favors!  Your guests will take home the artsy project they create as their favor
To finish the party off right… we bring out the Artsy Doodle Spin Art machine!  Each guest will create a spin art masterpiece to take home
You bring the cake or cupcakes or any other snacks you would like.  Don't forget other items such as candles, plates, forks, & napkins.
 Add-on Birthday Party Options Available: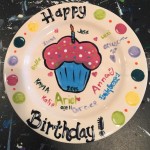 1. Happy Birthday plate (with a cupcake in the middle), painted and signed by all the party guests and fired in our kiln, add $20 – great keepsake item!
2. Candy Buffet or Ice Cream Sundae Bar, add $5 per guest
3. Unicorn Headbands, add $7 per guest
4. Glittery or Glow in the Dark Slime, add $2 per guest
 

Artsy

 

Doodle

Birthday

Party!
Cost is $255 for a minimum party of 10 Doodlers, $15 for each additional Doodler (no charge for guests that are not crafting).  Birthday Parties are scheduled for 1.5 – 2 hours.  Choose from any of the following themes:
Canvas Painting!  Your Doodler will pick a theme for their party, could be unicorns, L.O.L. Surprise Dolls®, glittery mermaids, sports themes, race cars, or whatever theme your birthday Doodler would like.  We will pre-etch a design and guide your Doodlers through creating a masterpiece.
Preschool Picassos –  A perfect party option for Doodlers ages 2-5.  We will put their initial on a canvas as a resist art project.  They will paint .  After the craft is painted with vibrant colors then it's time to add glittery embellishments.
Pottery Painting!  Your Doodlers will pick from a variety of pottery pieces to paint such as unicorns, race cars, trucks, dinosaurs, party animals, piggy banks, jewelry boxes and more.  Two different finishes to pick from:  Option A: Make and take it home same day or Option B: Leave your pottery with us & we will kiln fire each piece & guests can pick them up in a week.
Princess Party! Once upon a time… a little girl wished for an enchanting princess party.  Our little royals will each paint a pottery princess & make magical wands.  The boys at the party, they will paint a super hero pottery piece and decorate a mask.
Super Hero Fun!  POW! BANG! SMASH!   Your super heroes will paint a pottery super hero mug and decorate a mask for some bad guy busting fun.  If girls are coming to the party they can choose to paint a ceramic princess and make a wand.
Paint a Pet Adoption Party!  Our Paint a Pet Adoption Party is one of our favorites! We jam pack this special celebration with each Doodler selecting a ceramic pet to paint such as a kitty, puppy, penguin, hedgehog, and more.  Then they will make a special collar for their new pet, and pick a name.  We will present each Doodler with an official adoption certificate.
Glow In the Dark Art! Paint and party under the black-lights with amazing cosmic colors! Any of our canvas painting designs can turned into a Glow In the Dark Art Party.  Plus we will make glow in the dark SLIME!  This party is only available in the evening party times for the best glowing experience.
Cupcake Painting & Decorating!  Doodlers will have a blast painting a ceramic cupcake plate and decorating real cupcakes in our cupcake tornado machine.  No need to bring cake for this party.  Doodlers will enjoy eating their masterpiece after we sing happy birthday!
I Scream for Ice Cream!  This painting party will delight Doodlers of all ages! They will paint a cool ceramic ice cream bowl.  Then they will get crafty and create their own ice cream sundae at the sundae bar!  You don't even have to bring cake for this party!
LEGO Building & Painting Party!  To get this party started, Doodlers will be challenged with some creative build & play time using Lego® bricks.  Then we will get crafty and paint a ceramic piggy bank that is shaped like a giant brick.  This party is perfect for boys and girls!
Artsy

 "Super" 

Doodle

Birthday

Parties!

 
Cost is $275 for a minimum party of 10 Doodlers, $15 for each additional Doodler (no charge for guests that are not crafting).  Super Doodle Birthday Parties are scheduled for 2 hours.  Choose from any of the following themes:
Magical Unicorns (& dragons for any boys) – Artsy Doodlers will pick either a ceramic plate to paint with a beautiful unicorn or dragon and Ms. Becky will customize it with their name or Artsy Doodlers can pick a glittery unicorn or dragon on canvas.  Then we will make sparkly unicorn slime or dragon snot!
"Almost" Sleepover! This creative PJ party is an Artsy Doodle fan favorite!  Doodlers will wear their favorite PJ's and create a personalized no-sew pillow and duck tape journal.
Sparkle Spa Party! It's time to get pampered and make candy kisses lip gloss, pink lemonade body scrub and cherry-berry bubble bath.  We'll get crafty decorating a girly-girl spa kit.
Art + Science! At this hands-on science party we will do some wacky experiments that create colorful concoctions and fizzy eruptions! In this part art, part science party Doodlers will be mixing up a unique slime recipe we call Doodle-Goo, creating rainbow snow, mixing up top secret color exploding ingredients, a wacky balloon experiment and build a marshmallow launcher!
Build a Fairy Gardens! Let your imagination run free as you create an enchanted miniature fairy garden. Each garden will include a garden fairy, wooden fairy house, and accessories. And don't forget the pixie dust!
Wood Signs!  Your Doodlers will love exploring their creativity as they sand and paint a wood sign.  Sizes available 7×24" or 12×12".  Stencils provided for the following designs: I am an Artist or School Work with clips to hang work, or Friends with photo clips, or Faith, Hope, Love, Family, Friends or She believed she could so she did.  These parties are excellent for Doodlers 6 and up and especially for pre-teens and teens!
All parties require a $50 non-refundable deposit that will be subtracted from your bill on the day of your party.